FACILITIES
BUS FACILTIES
The college has a regular bus service to facilitate comfortable journey for the staff and students form Kanpur city to college and back. College is also well connected by frequent services of local bus, auto rickshaws and is in close proximity of Chaubepur Railway Station.
Hostel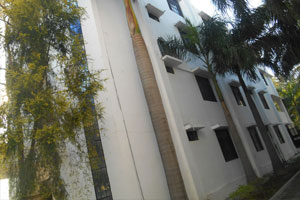 The College is having in-campus hostel for girls with 24 hours water and wi-fi facility. The rooms are well furnished with attached washroom. Environment of the hostel is competitive and homely. Girls form different places never feel uneasy due to the culture developed in the hostel. Hostel staff is most caring and close supervision of the Institution makes the hostel extremely safe, hygienic and comfortable. Free bus service for hostel students on every Sunday for fun and excursion. For boys off-campus hostel arrangements have been made for comfortable boarding and lodging at affordable rates.
We have Off-Campus Hostel Facility also only for boys.
Labs
Special emphasis has been laid in developing excellent laboratories for the study of Physiotherapy, Medical Microbiology and Nursing. SCMAT has very well equipped laboratories, which boost of ultraviolet spectrophotometer & 8 feet long laminar flow. We have also added PCR Machine, Projection Microscope, LASER, Bio-feedback and Spiro meter to increase the facilities of practical's. Some of our Prominent Labs as :-
• Molecular Lab • Microbiology Lab • Electro Therapy Lab • Exercise Therapy Lab • O.P.D. • A.T.C. (Animal Tissue Culture) Lab • P.T.C. (Plant Tissue Culture) Lab • Biochemistry Lab • Physiology Lab • Nursing Labs • Advance Computer Lab • Anatomy Lab •OBG Lab •Nutrition Lab •Foundation Lab •CHN Lab
Library
The nerve center and heart of the college, our library is well stocked with the latest text and reference books by Indian & foreign authors. In addition, many journals are subscribed in print & electronic format on various professional subjects. The library facilities are in a continuous state of upgrading.
Besides the comfortable seating and reading environment, the libraries are well equipped with modern facilities and resources in the form of online databases, video cassettes, books, journals, back volumes of journals, theses, etc. Facilities such as photocopying, fax, access to internet resources, online journals are some of the many special features. There are a separate audio-visual room, group study area and private study area in the library.
O.P.D.
Many facilities are provided at OPD level e.g. ECG, Plaster, Injection and Immunization Room, Contraception and MTP Services, Minor Surgical Intervention, Physiotherapy, Bronchoscopy, Endoscopy etc.
SMART CLASSES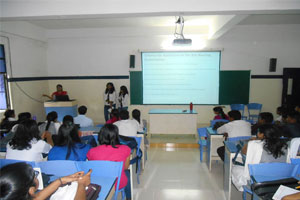 Technology Enhanced Classrooms (previously referred to as "smart" classrooms) designate those classrooms that have been augmented with a variety of technological tools that can enhance the learning environment. Most commonly, these classrooms will offer as enhancements: an Extron Touch-Panel Control System (attached to the instructor's desk); a PC; a Data Projector and an incorporated audio system. Many rooms that include the aforementioned tools also come equipped with an interactive whiteboard or tablet powered by SMART technologies. Additionally, these rooms are outfitted with the necessary equipment that will allow for a laptop to be connected to the in-room system.
E-CAMPUS
eCampus is very strong in student communication tools. When students are assigned to work in groups, we have many options that let them share within the group, such as our ERP software. Ecampus has developed a structure that allows students to easily navigate through the major topic areas of the ERP. When the user is in such an area, they are presented side navigation topics developed specifically for that area. This simple interface will help users find the information they are seeking quickly and easily without being inundated by overly complex and confusing navigation schemes and the whole campus is well connected through wired as well as wireless networks. Students are able to have access to internet with 04 mbps connectivity. The coverage of Wi-Fi is not only restricted to class rooms but also extends to all the areas including library, auditorium, cafeteria, and hostels. Eventually, it enables SCMAT to switch over to innovative and recent teaching and learning methodologies.